Journal profile and readership metrics
American Journal of Computer Science and Information Technology publishes peer-reviewed content on Computer Architecture and Systems, Algorithms and Bioinformatics, Database and Data Mining, Computer Networks and Distributed Computing research highlighting latest trends of scientific inquiry and systematic studies to address emerging challenges in these fields. The journal offers wide scope for publication of scholarly information which includes, but not limited to Computer Graphics and Multimedia, Game and Software Engineering Systems, Scalable Computing, Simulation and Modeling, Networking and Communications, Soft and Internet Computing, Artificial Intelligence, Robotics. The archived content of the journal represents the track of progress made in this field over the past decade. The information gathered by the journal functions as resource of refined knowledge for academicians, scientists, physicians, clinical and medical professionals. The volume of information contained on the journal web-site is contributed by authors from different regions of the world. Due to these reasons readers hailing from diverse professional backgrounds and regions are interested in the journal content.
Google Analytics Metrics for the American Journal of Computer Science and Information Technology
A statistical representation of global users for American Journal of Computer Science and Information Technology (Source: Google Analytics)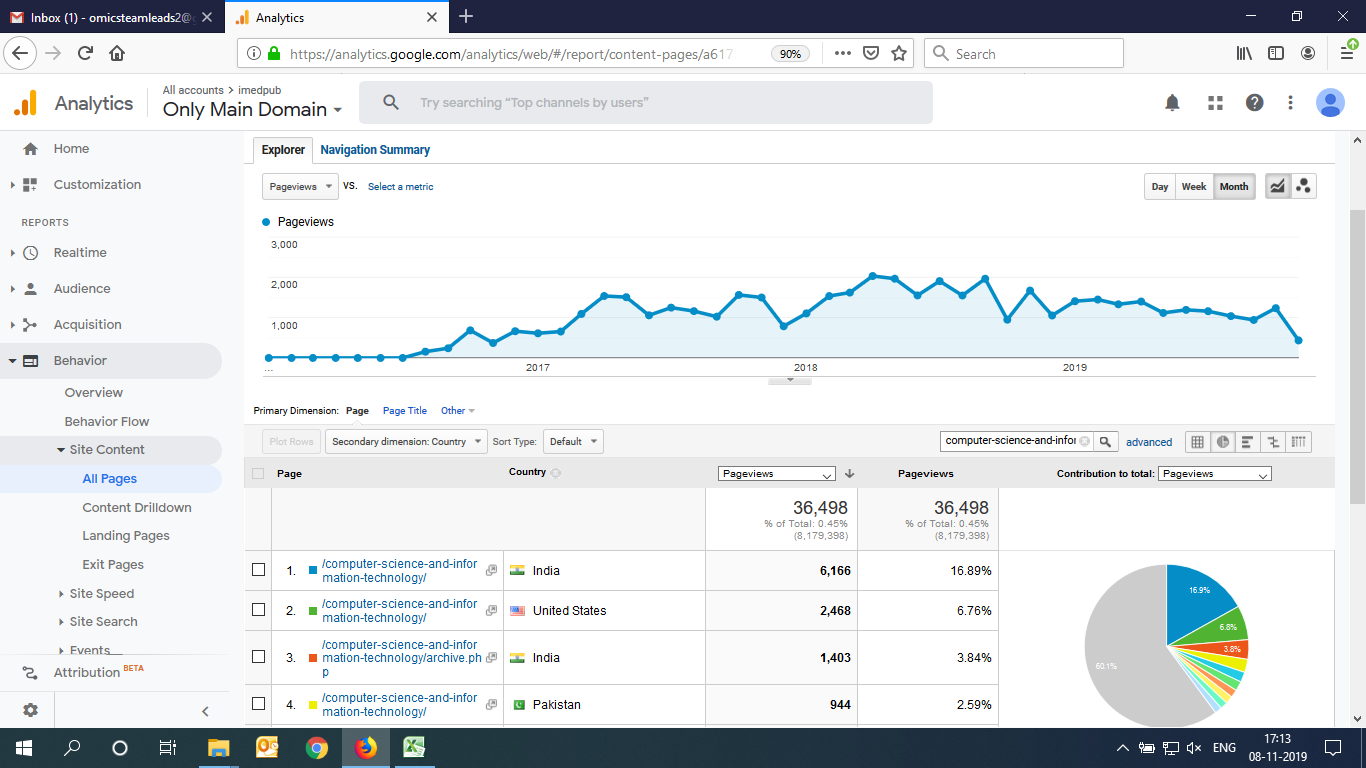 Google analytics has revealed that readers are constantly accessing the website round the clock. Approximately 36498 visitors accessed the journal home page for various academic and research purpose which include: Knowing about the journal and its publication model; reading the aims and scope; manuscript preparation and submission protocol; accessing and citing the published content for scientific documentation.
The geographical distribution of our readership is as follows: India (16.89 %), United States (6.76%), India (3.84%) , Pakistan (2.59%). It was observed that there was relatively greater demand for scientific content since the sections on in press, current issues and archived articles recorded highest visibility and readership.
The focus and mandate of the journal as detailed in the aims and scope attracted the researchers and professionals of medical science to the journal home page and encouraged them to submit their contributions as they found the journal to be most relevant and suitable for reaching out to the audience and gain wider recognition in their field of research.
The citation metric of the journal revealed an upward trend over the past several years which indicated that the journal content was not only read but was also utilized in respective research endeavors and explorations.
Analysis on global internet users of imedpub.com (By Google Analytics)
A statistical analysis on global internet users of imedpub.com (By Google Analytics)
iMedPub was established in the year 2005 and since then has been actively publishing peer-reviewed articles in biomedical and clinical science; material science; mathematics and engineering topics. iMedPub follows standard editorial and production policies with Internationally acclaimed publication practices.
Due to wide variation in the journal portfolio, the publisher site is accessed by various communities of diverse scientific disciplines from reputed research organizations, academic institution and Government bodies. More than 2,822,814 users have accessed the publisher website with more than 7,758,847 page views. These stats reveal that the journal is also immensely popular among scientific societies and organizations. Consequently, the editorial board profiles, authors and their affiliations are also gaining higher visibility.
Web metrics of iMedPub (Source: Google Analytics)
Users :2,822,814
Page views :7,758,847
The number of web sessions, the publisher received was 3,595,693 at the rate of 2.16 new sessions. This implied that new users and visitors are flocking to the publisher bases. A number of users are also revisiting the publisher pages indicating their continued interest in the journal. The fast and efficient publishing standard set by iMedPub was found to be very impressive by the reader base and is being well appreciated; as evident from the web metrics. The metric displayed belong only to our journals and if the associated links are also taken into consideration the number would be significantly much higher.