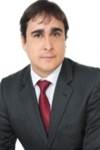 Dr.David Livingstone Alves Figueiredo
Associate Professor,Department of Otorhinolaryngology-Head and Neck Surgery ,UNICENTRO-University of Midwest, Brazil.
Biography
Graduated in Medicine from the Ribeirão Preto Medical School of the University of São Paulo (1996), he did Medical Residency in Head and Neck Surgery at the Hospital das Clinicas de Ribeirão Preto (2001) and Master (2004) and Doctorate (2008) in Sciences By FMRP-USP. He is currently Adjunct Professor of the Department of Pharmacy of the State University of the Midwest (UNICENTRO) and Advisor of the Master's Program in Community Development at the same university. Involved with the Genome Project of the Head and Neck Cancer (GENCAPO), participates in the Head and Neck Genome Thematic Group - FAPESP and the CNPQ Research Group - Molecular Markers of Human Diseases. Participates as a researcher at the Advanced Research Group Head and Neck Cancer (GENOPROT-CNPQ Project) involving the Head of Surgery and Neck FMRP-USP and the National Institute of Science and Technology in Stem Cell and Cell Therapy (INCTC ) And develops studies in the area of ??molecular markers in head and neck carcinoma also along with FMRP-USP and INCTC. He is a member of the group of Onco-Genome Research Support Center - Systemic Integrated Biology Center - CISBi-NAP / USP Ribeirão Preto Medical School, University of São Paulo, under the coordination of Prof. Dr. Wilson Araujo da Silva Júnior. Is Head and Neck surgeon and has experience in Medicine, with emphasis on Head and Neck Surgery, acting on the following topics: head and neck cancer, larynx, Thyroid surgery, cranio-maxillofacial traumatology.
Research Interest
Head and Neck Surgery , Otorhinolaryngology , cranio-maxillofacial traumatology