International Conference on Dermatology and Melanoma
Abdulrahman Azizpour
Professor, Psoriasis and Psoriatic Arthritis, Iran, E-mail: [email protected]
Dermatology is the branch of medicine dealing with the skin. It is a specialty with both medical and surgical aspects. A dermatologist is specialist doctor that manages diseases, in the widest sense, and some cosmetic problems of the skin.
Dermatology are often managed through discussion on multi-disciplinary dermatology conferences where medical dermatologists, surgical dermatologists, radiation dermatologists, pathologists and radiologists meet to find the best possible management for an individual patient considering the physical, social, psychological, emotional, and financial status of the patient. It is very important for dermatologists to keep updated with respect to the latest advancements in dermatology, as changes in management of skin are quite common.
The Dermatology 2020 is an event that aims to explore the Innovative approaches for current Investigations, Treatment and Preventive Strategies scheduled to be held on Sep 23-24, 2020 at Rome, Italy. The conference will serve as a platform to bring together leading gynecologist and its Causes. Dermatology 2020 will also see discussions covering topics such as Dermatology, Cosmetic Dermatology, Pediatric Dermatology, Current Research In Dermatology And Cosmetology, Further Approaches In Dermatology, Dermatological Diseases, Dermatological Techniques, Dermatopathology, Nanotechnology In Dermatology, Plastic Surgery And Reconstructive Surgery, Skin Infections And Skin Cancer, Surgical And Non- Surgical Aesthetic Treatment, Trichology And Hair Transplant, Teledermatology, Diet In Dermatology and Entrepreneurs Investment Meeting.
Dermatology is the branch of medicine deals with the Skin, Nails, Hair and its sicknesses. It is a claim to fame with both medical and surgical perspectives. A Dermatologist treats illnesses, in the most extensive sense, and some cosmetic issues of the Skin, Scalp, Hair, and Nails.
Dermatologists have been leaders in the field of cosmetic surgery. Some dermatologists complete fellowships in surgical dermatology. Many are trained in their residency on the use of botulinum toxin, fillers, and laser surgery. Some dermatologists perform cosmetic procedures including liposuction, blepharoplasty, and face lifts. Most dermatologists limit their cosmetic practice to minimally invasive procedures. Despite an absence of formal guidelines from the American Board of Dermatology, many cosmetic fellowships are offered in both surgery and laser medicine.
Dermatology 2020 fundamentally manages the exploration, analysis and treatment of conditions identified with skin, hair, and nails. World Dermatology 2020 focuses around skin growth, skin ailments, Allergy manifestations, Dermatological maladies, Clinical Dermatology and Cosmetic Dermatology. In the current time the exploration in Dermatology came to another tallness which includes clinical research, Research strategies for analysis of the Dermatological infections and new treatments.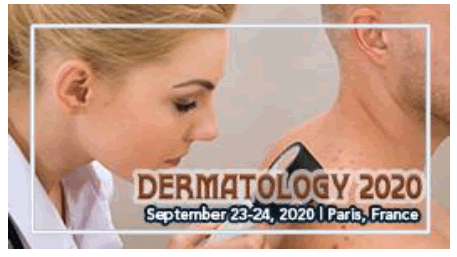 Our Theme: Exploring the possibilities of Dermatology celebrates our achievements and examines current and future challenges and celebrates the diversity of our health care system.
Dermatology 2020 will include speaker talks, brief keynote presentations, workshops and exhibitions, where researchers and associations will exchange ideas and discuss the methodology for new Diagnostics and treatment methods for Hematologic Disorders, Management and Care of Patients, new approaches emerging in Dermatology etc.
Dermatology 2020 goal is to bring together bright minds to gives talk that are ideas-focused, and on a wide range of scientific sessions, to faster learning inspiration. It will provide an international platform to share expertise, foster collaborations, discover new clinical information, stay updated with recent trends and advances in the field of Dermatology.